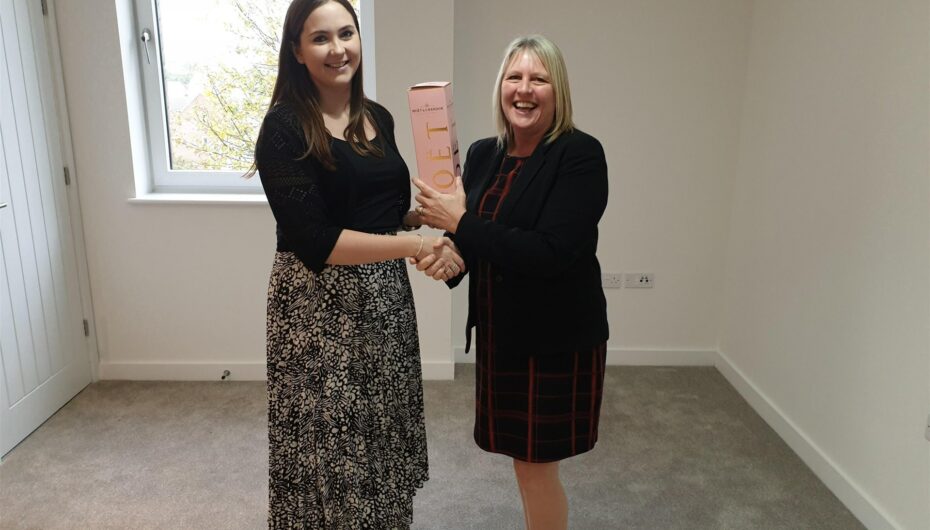 30th December 2020
First Owner Moves in to Old Custom House
History has been made in Dovercourt with the first person ever to move into Old Custom House as a residential building, being handed the keys.
Erin Carman, a lifelong Dovercourt resident becomes the first owner in the gated apartment complex, formerly used as office accommodation by HM Customs and Excise. The converted apartments (34 in total) are a mixture of one, two and three bedroom homes.
Lynne Buxton, Assistant Branch Manager at Boydens, Frinton commented:
"It is pleasing to see the first person to move in to Old Custom House. Anyone who has lived in Dovercourt will know about Old Custom House and I am delighted that the building continues to have a useful purpose in providing local homes for local people including first time buyers like Erin"
We asked Erin about her decision to move to Old Custom House:
How long had you been looking to purchase your first home?
"It had always been a goal of mine to purchase my first home. However, I started to look around more regularly about six months before I came across Old Custom House. I was looking both locally and outside of the area closer to Colchester (where I work) but I had a feeling all along I would want to be staying in the area."
How did you first hear about Old Custom House?
"Being local to the area already, I had seen signs go up and heard announcements about Old Custom House indicating that the original building was going to be refurbished into apartments. This already made me feel very interested! I was definitely impressed with the wide variety of apartment layouts and sizes available, and this really was one of my main drivers for attending an open day."
What appeals to you about living at Old Custom House?
"The building itself has always intrigued me in a good way - even when I was growing up. Until the first open day I went to, I had never set foot beyond the gate. There are so many interesting spaces in and around Old Custom House; from the lovely rooftop terrace to the well-lit and spacious communal areas on each of the levels. You can automatically tell the apartments have been built and finished to a superb standard with sustainability in mind. Also, the location feels very secure and central to the amenities, and the apartments themselves are generously-sized. Simply put, Old Custom House has a lovely 'feel' about it, and this drew me in pretty much from the first open day when I knew straight off the bat I would be going ahead with a purchase."
What do you think you will enjoy most about living there and purchasing your first home?
"I think the novelty of being the first person to move into an apartment building which was re-purposed from a totally different setting beforehand isn't going to wear off quickly. As well as the many summer evenings spent on the rooftop terrace with the pretty view of the River Stour, I am also looking forward to the strong sense of community which I am sure will be noticeable as more and more people start to move in. I am excited for my friends and family, both from close and afar, to visit me in my apartment too. I know I will enjoy the freedom of making my apartment mine, and putting my own stamp on it. It truly was a lifelong dream of mine to own and purchase my first home so I am very glad to have officially completed, and I couldn't be happier knowing it will be at Old Custom House."
Apartments at Old Custom House are available now - see the full property details here:
Get in touch